Asset level -Simplified Water Balance
In many cases, when mining companies disclose water data, the volume of reported withdrawn water does not represent the total water used in the operation. Not all rainwater, run-off, dewatering, and other flows are completely captured and disclosed in the reported water balance indicators. As a result, many mining companies are underreporting water consumption or reuse efficiencies, with some extreme cases of negative water consumptions or reuse efficiency higher than 100% being seen.
Under reporting of water data make it very hard for stakeholders of the industry to assess operational performance. Skarn have addressed this using benchmark parameters and industry expertise to allow for a like-for-like comparison.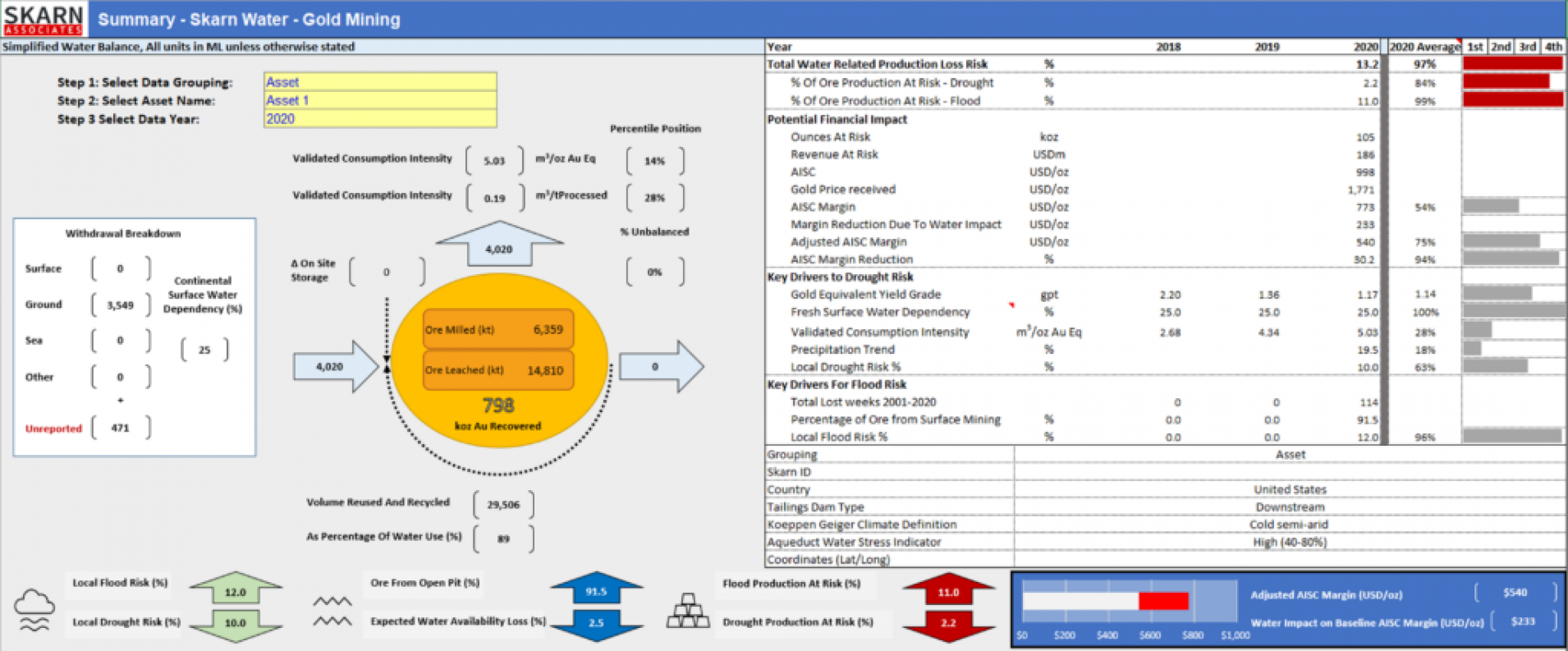 Company level water impact - water withdrawal intensity
The following graph from Skarn Water shows the withdrawal intensity per company to produce an ounce of gold equivalent, through aggregation of site level data. As shown in the chart, most companies take less than 30 m3 of water from the environment, however 25% of global gold production withdraws more than this, in some cases over 100 m3 per ounce of gold. ,This includes some Tier-1 gold producers.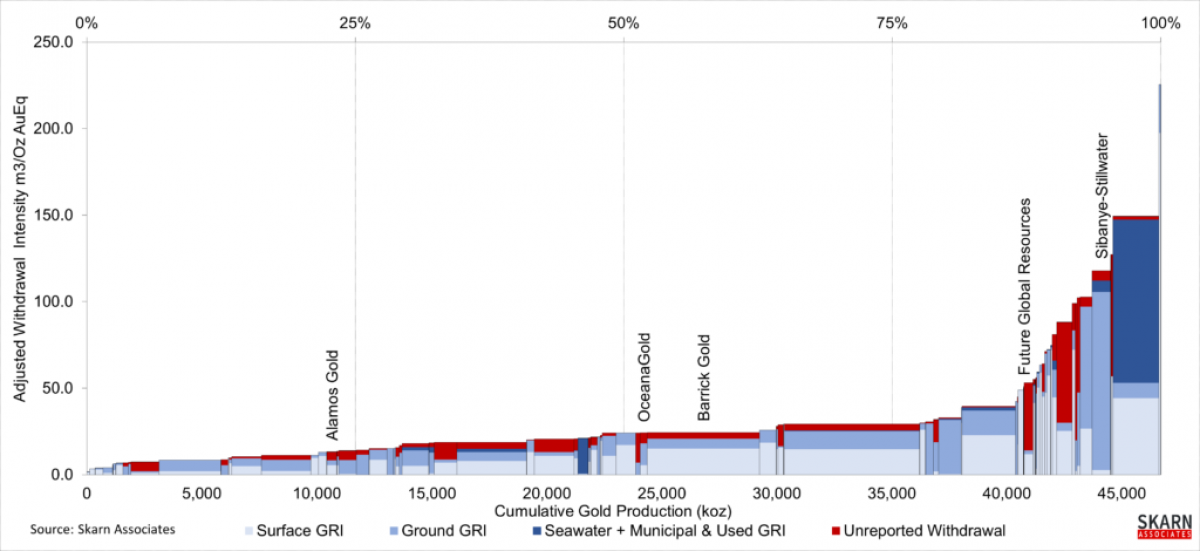 External Climate Water Analysis
The Skarn Water product enables external water related climate analysis at site level. Using georeferenced local historic monthly water climate data allows for analysis of annual and seasonal variability, including indicators of probability of extreme events. This information may also be extrapolated to future water trends (climate change) through a collation of recent precipitation data compared to historic records. Skarn Water is using external publicly available climate datasets such as East Anglia - Climate Research Unit TS 4.05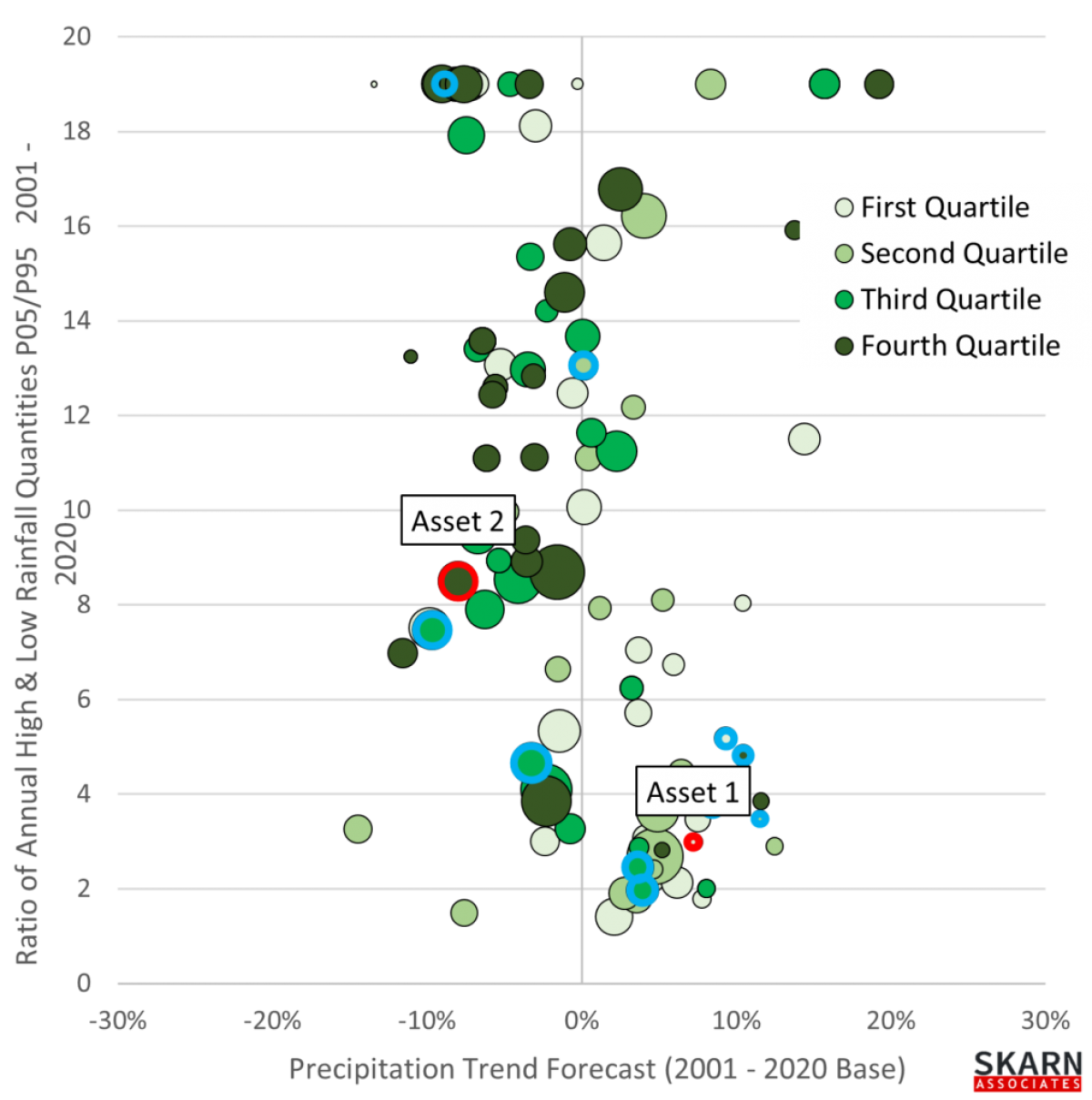 Water- related production at risk probability
When combining both relevant mine site production parameters with external climate data analysis, Skarn Water automatically generates a forward-looking water-related production at risk quantification for each mine site, based on current production data, water-related production exposure and recent precipitation trends. The following graph shows the aggregate production ounces at risk at country level, both from a drought as well as flood perspective.

The graph clearly demonstrates that water-related production risk varies greatly from location to location, and that most production at risk is drought related. It is interesting however that for any given country both flood and drought risk are present, albeit to varying degrees.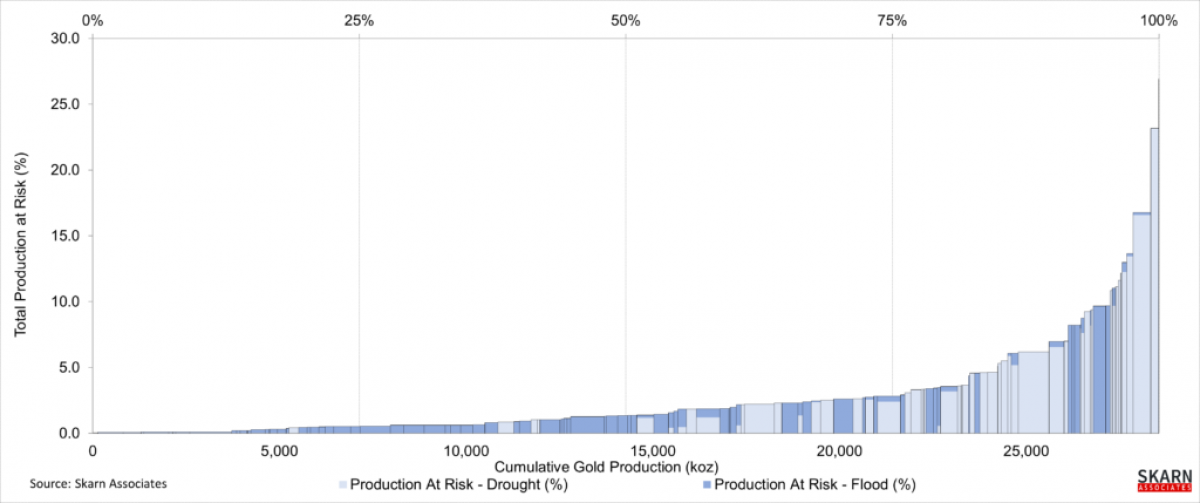 When evaluating the same production at loss parameter at asset level, it immediately becomes clear, although the country level visualization is very clarifying for a general view, it does not capture the power of asset level analysis.
Whereas country level analysis flags about 90% of the production with identified risk values, when evaluating at asset level, this reduces to 60% of the assets. Probably more important though is the identification of an important number of mining operations with very high water-related production risk.
For more information regarding Skarn Water - Gold Mines product please contact: George Coles, Business Development Manager, george.coles@skarnassociates.com Raymond Philippe, General Manager - Skarn Water, raymondphilippe@skarnassociates.com